Not actual patient
Administration support
available from the
very start Comprehensive support for you
throughout treatment with TYMLOS.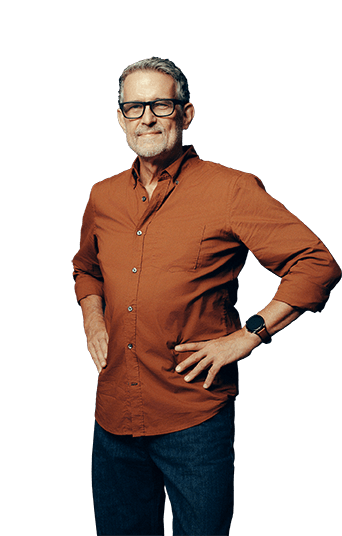 Self-administration support
When you are prescribed TYMLOS by your doctor, there are a number of helpful tools and resources to get you comfortable taking TYMLOS and keep your injection on track for the length of your treatment. These include access to our Clinical Educator Network, a starter kit to help as you begin treatment, and a downloadable injection tracker sheet.
Register for one-on-one support

(opens in a new tab)
Interested in a starter kit?
Sign up to receive a free Starter Kit at no cost to you that includes materials that can be helpful as you begin your treatment with TYMLOS.
Get a starter kit

(opens in a new tab)
Keep on track throughout your entire
treatment with our Injection Tracker
To get the most out of your TYMLOS treatment, it's important not to miss a dose. This printable
injection tracker can help you track your treatment.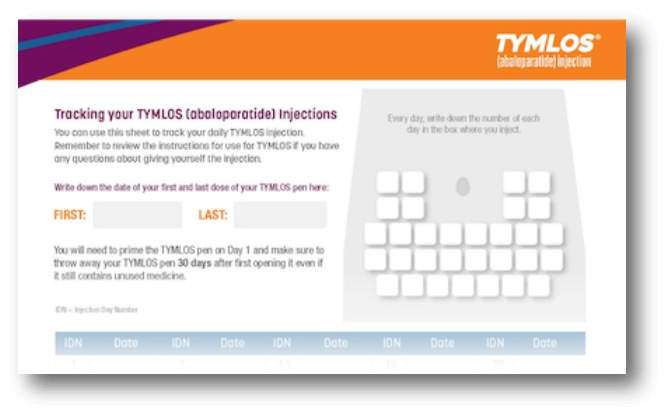 Download Injection Tracker

(opens in a new tab)
Meet our Clinical Educators!
Ashley Fowler,
Lead Clinical Educator
Ashley Fowler has been in the healthcare industry since 2000 and has worked in hospital, office, surgical, pharmaceutical, and educational settings. Each new experience has brought rich experiences and friendships, and she's thankful for each one.
Ashley believes each patient is a person with a story to tell and getting to know people and their stories is what she loves about nursing (and really about life in general). Ashley couldn't have made it through challenges she's faced without the help of others, and she believes nursing is one way she is blessed to help others along their journeys. Ashley lives outside Nashville with her husband of 20+ years and 2 sons. They are very active in their church and the boys' sports.
Lillian Gonzalez,
Clinical Educator
Lilian Gonzalez is a Registered Nurse with specialized knowledge and experience in the care of patients with osteoporosis. She started her nursing career as a staff nurse and later pursued her passion for teaching.
With over 30 years of combined experience in hospitals, home health, research, and patient teaching, she brings the voice of the patient in everything she does. Her skills and empathy make it possible for patients to feel at ease and empowered. Lilian is passionate about her work and family. She has 3 lovely children with her husband of 25 years. She enjoys going on daily walks and weekend bike rides.
Marsha Kellar,
Clinical Educator
Marsha Kellar is a Registered Nurse with almost 20 years of osteoporosis expertise as a contract nurse educator, 34 years of hospital experience in postpartum care, and a degree in education. In her work with patients across the life span, she seamlessly combines skill with a genuine desire to teach, connect with, and empower those in her care.
Marsha lives in a suburb of Denver, Colorado, with her husband. They have 3 married daughters and 4 grandchildren. In her spare time, she enjoys gardening, reading, and being outdoors.