Resources and support for patients prescribed TYMLOS.
TYMLOS patient support—there when you and your patients need it.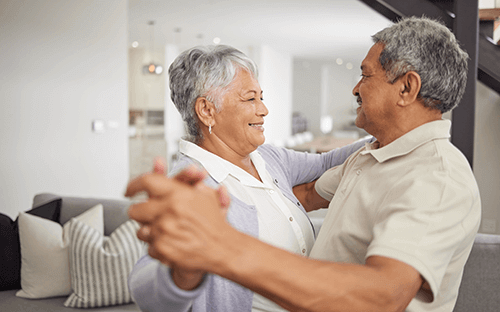 Prescribing resources and downloads.
Access and affordability.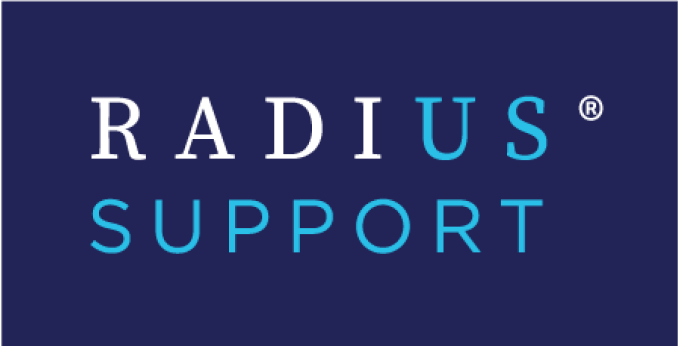 From insurance coverage to potential savings on treatment, the Radius Support team is available to assist you and your patients.
Call Monday through Friday, 8AM to 7PM ET, at
1-866-896-5674
Savings Card
Eligible,* commercially insured patients can pay as little as $0 a month for their TYMLOS prescription. There is an annual cap on the amount of assistance patients can receive over a 1-year period.1
* This offer is not valid for patients using Medicare, Medicaid, or other government-funded programs to pay for their medications. See back of Savings Card for all eligibility requirements, rules, and restrictions. Savings Card is available for patients to download at TYMLOS.com. Limited to one offer per person.1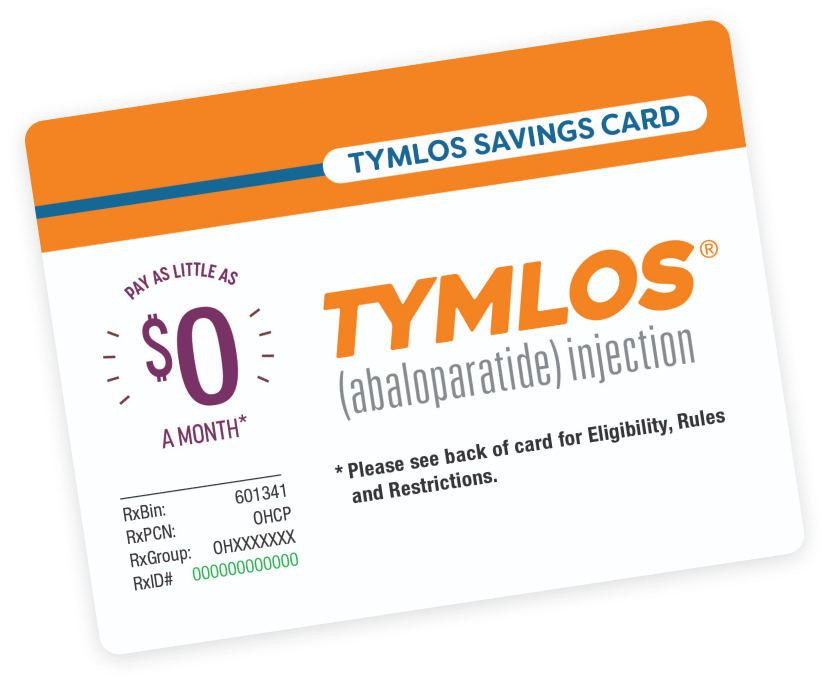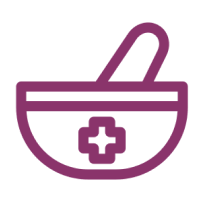 Explaining a Specialty Pharmacy to Your Patients
Explaining a Specialty Pharmacy (SP) to Your Patients
Use this guide to help answer questions your patients may have about receiving their prescription from an SP.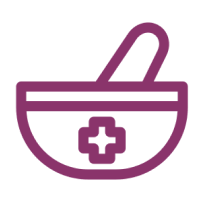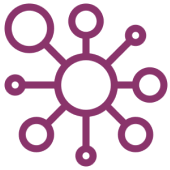 TYMLOS Specialty Pharmacy Network List
See a list of non-integrated delivery network SPs that are able to dispense TYMLOS. In addition, SPs affiliated with an integrated delivery network are able to dispense TYMLOS.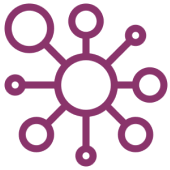 Download

(opens in a new tab)
Specialty Pharmacy information.
Specialty Pharmacy (SP) information.
Once a prescription has been received, the Support Center will conduct an insurance verification to confirm coverage for TYMLOS, obtain estimated out-of-pocket costs, determine if a prior authorization (PA) is needed, and identify an in-network SP.
Should a PA be required, the SP may reach out to your office for additional information or to submit the PA to the health plan. Prescriptions will be triaged to the patient's in-network SP whenever possible. The Support Center will provide the pharmacy with the savings card information for eligible patients.
TYMLOS is covered by most commercial and Medicare plans. Individual out-of-pocket costs will vary.1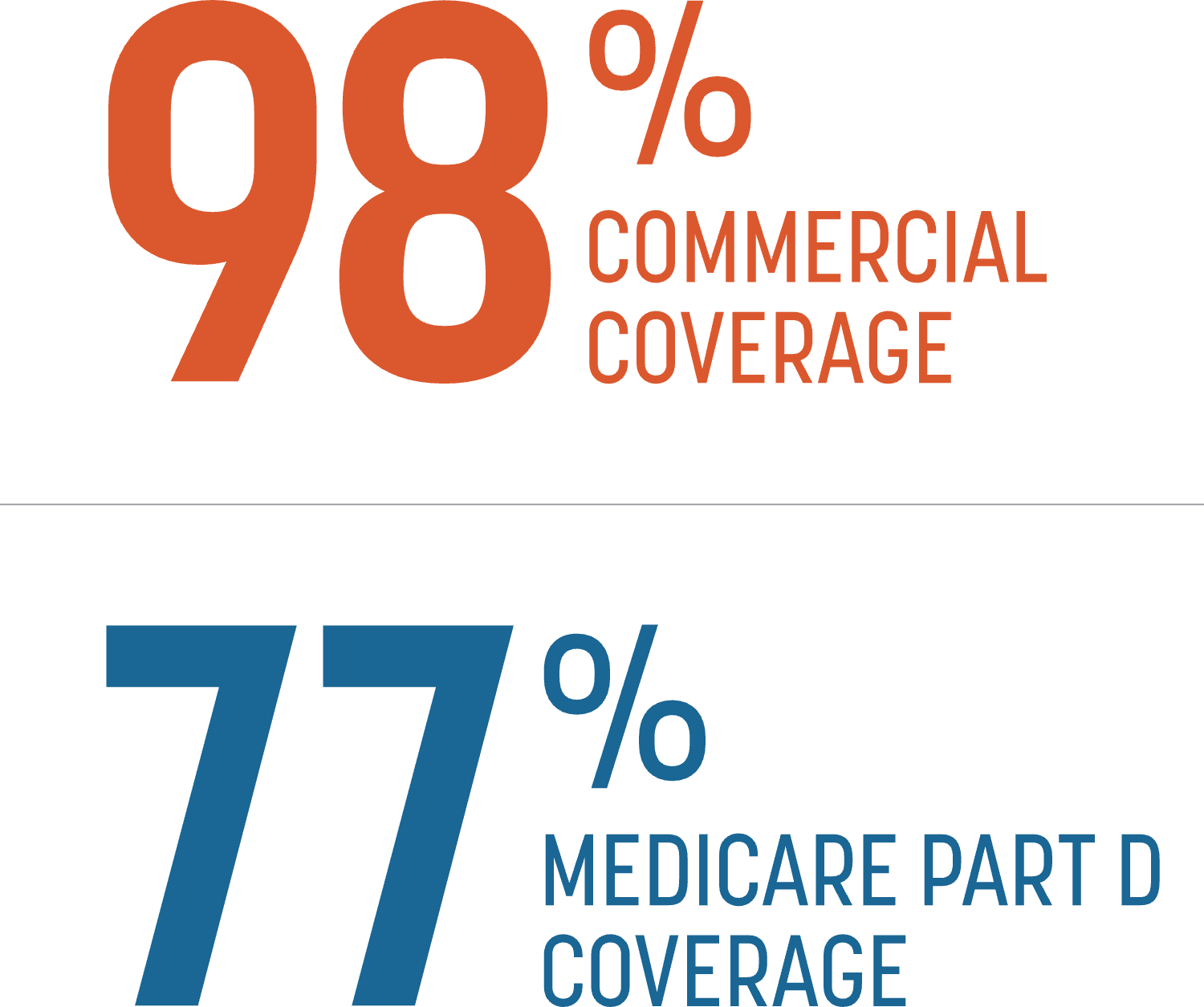 Data courtesy of Managed Markets Insight & Technology as of January 1, 2023.
What to do if TYMLOS is not covered under your patient's insurance plan?
Advise them to call 1-866-896-5674 to learn about Radius Assist, a patient assistance program available to eligible patients who cannot afford their medication.
Radius Patient Access Support Services
The Support Center will provide you with details related to your patients' insurance benefits, PA requirements, as well as contact information for SPs.
Call1-866-896-5674
Patient resources and downloads.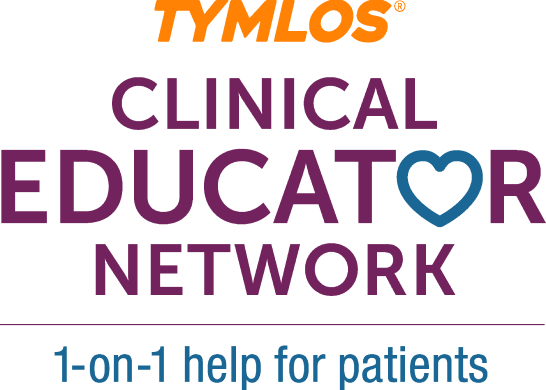 Encourage your patients to register for virtual injection training.
Injection training is provided through our Clinical Educator Network, which helps patients with a prescription understand how to use the pen and self-inject, and supports them as they start and stay on TYMLOS, as directed by you.
The TYMLOS Clinical Educators are also available to provide training for you and your staff on using the TYMLOS pen.
Encourage your patients to register for virtual training at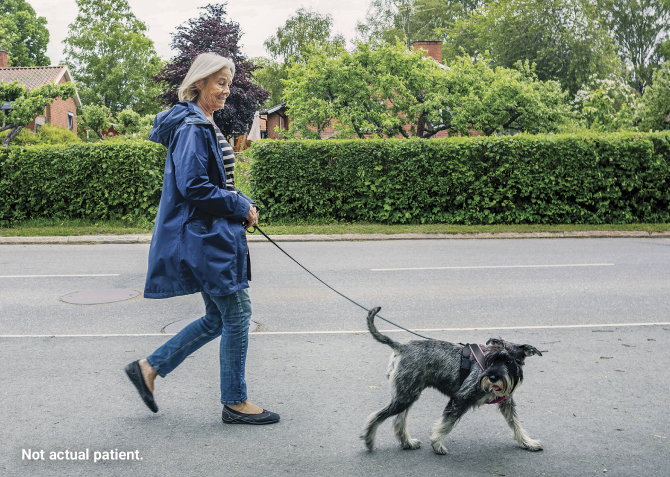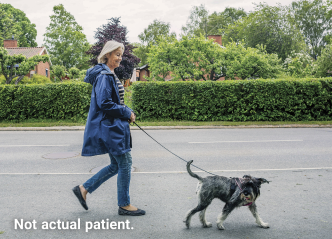 Patient Brochure
This brochure will help your patients understand osteoporosis as a disease, its associated risk factors, and the role TYMLOS plays in treating it. Inside, patients can find information on the TYMLOS patient support program, directions on storage and use, and how to access a savings card.
Download

(opens in a new tab)
Prescribing Information
Download the TYMLOS Prescribing Information.
Download

(opens in a new tab)
Medication Guide.
Download the TYMLOS Medication Guide.
Download

(opens in a new tab)